SIQ SHIT X THE BLOG: Broadway Calls in SF →
siqshit: The homies BROADWAY CALLS released their brand new full length "Comfort/Distraction" today. And first of all, if you haven't already, go listen to it. It is another solid release by this can't-help-it-but-to-always-sing-along band (and one of my favorite bands for sure). Dudes are good…
FEBRUARY. CALIFORNIA. MEXICO.
Feb 16 - Berkeley, CA - 924 Gilman (w/My Iron Lung) Feb 17 - Fresno, CA - The CYC (w/My Iron Lung) Feb 18 - Camarillo, CA - Rock City (w/My Iron Lung) Feb 19 - San Diego, CA - Soda Bar (w/My Iron Lung) Feb 21 - Queretaro, Mexico - Teatro De La Ciudad Feb 22 - Guadalajara, Mexico - Rock and Live Feb 23 - Mexico City, Mexico - Foro 246 Feb 24 - Tijuana, Mexico - El Tigre Bar Feb 25 -...
WINTER TOUR
TOUR IN JANUARY/FEBRUARY!! THIS STARTS ON THURSDAY!! DETAILS BELOW…. w/ Silver Snakes 1/17/13 San Francisco, CA Thee Parkside 1/18/13 Canoga Park, CA     Cobalt Cafe 1/19/13 Fullerton, CA Slidebar 1/20/13 Mesa, AZ Nile   Underground 1/21/13 Albuqeurque, NM Gasworks 1/22/13 Midland, TX Pine Box 1/23/13 Oklahoma City, OK VDZ w/Red City Radio, Silver Snakes 1/24/13 St Louis, MO Fubar ...
Broadway Calls Premiere "Wildly Swinging" via...
nosleeprecords: Portland trio BROADWAY CALLS have unveiled another new track from their upcoming album "Comfort/Distraction" by way of PureVolume. The new track is titled "Wildly Swinging" which can be heard below via the PureVolume player (or here).
Broadway Calls Nervous Energies Session
nosleeprecords: Head on over to NervousEnergies.com now and check out the new Broadway Calls session!
No Sleep Records: Broadway Calls European Tour! →
nosleeprecords: w/ Great Cynics, Gnarwolves 3/8/13 Stuggart, GER @ 1210 3/9/13 Obdach, AUS @ VAZ 3/10/13 Salzburg, AUS @ Rockhouse Bar 3/11/13 Wien, AUS @ Arena 3/12/13 TBA 3/13/13 TBA 3/14/13 Zurich, SWIZ @ Dynamo 12 3/15/13 Rome, Italy @ Closer Club 3/16/13 Milan, Italy @ Live Forum 3/17/13…
COFFEE AND CIGARETTES COMP
http://coffeeandcigarettesclothingco.bandcamp.com/album/action-against-hunger This comp benefits a great cause and is very worth checking out. Our new song Lucky Lighter is on there with a bunch of other rad friends and jams. 
AMP review for Comfort/Distraction →
 "…this could be the best record of 2013. Buy it, love it and go see it live."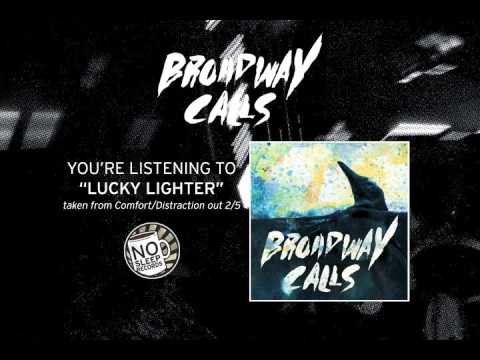 2013 WINTER TOUR
TOUR IN JANUARY/FEBRUARY!! DETAILS BELOW…. w/ Silver Snakes 1/17/13 San Francisco, CA Thee Parkside 1/18/13 Canoga Park, CA     Cobalt Cafe 1/19/13 Fullerton, CA Slidebar 1/20/13 Mesa, AZ Nile   Underground 1/21/13 Albuqeurque, NM Gasworks 1/22/13 Midland, TX Pine Box 1/23/13 Oklahoma City, OK VDZ w/Red City Radio, Silver Snakes 1/24/13 St Louis, MO Fubar ...
kavemankarl asked: curious where your favorite place to play in denver is? Blast-o-mat (now goes by 7th circle), marquis, The gothic or Illegal Petes?
No Sleep Records: "Comfort/Distraction" from... →
nosleeprecords: Broadway Calls' new LP titled "Comfort/Distraction" will be available February 5th via No Sleep Records (North America). Head on over to AbsolutePunk.net now to stream the new song "Lucky Lighter." Pre-orders for the new CD/LP are now available over at nosleepstore.com!…
white conservatives are all about ~*AMERICA*~
punjabi-rani: until they have a black president. then they jump ship like it's no big. that's colonialism for you. kill millions of human beings to get a shiny piece of land. but the second barack obama gets a second term? this shiny piece of land is just dirt to them. because it doesn't represent what "cleansed" this land of millions of people anymore.
SPLIT WITH MIXTAPES NOW AVAILABLE!!!
https://itunes.apple.com/us/album/vision-quest-ep/id567376694 http://nosleeprecords.com/release/134/vision-quest
failingtoaspire asked: When do you think you'll be in the Southern California/Los Angeles area again?
theblanketfortrl asked: Come play in our DIY venue?
adammsouza asked: Are you guys still playing the middle east in cambridge on October 19th? You are not on their calendar of events. Thanks
letsfightcrimewithmangoesandlime asked: Will you ever be coming back to the UK? :3
Watch
siqshit: close to half already gone over at VITRIOL. …REBLOGGED FROM: comadre: Comadre - Cold Rain  Our brand new single is out today. Order the 7inch vinyl HERE at VITRIOL RECORDS. You can also buy the digital version of the single HERE at our BANDCAMP. "Cold Rain" is the first single off our upcoming full-length that will be released January 2013. This single also includes 2 songs on the...
I never use this.
I'm so bad at using tumblr and Facebook. If you guys want to actually know up to date info, you should follow @broadwaycalls on twitter. I will try to be on here more as well, I guess.
manlypoetryformen asked: Please come to Connecticut! There is a huge lack of Broadway Calls here!
trainedbyaliens asked: Will you guys be coming to Canada at any point (more specifically, Kingston, Ontario)?
jenii337 asked: So bummed that I missed you guys when you played at Thee Parkside last month. That was the first time in years that you had a show around here and I wasn't there. Any plans to return to the bay area anytime soon?
stealingsailboats-deactivated20 asked: Could you guys please put a TAB up of "Stealing Sailboats"? I'd LOVE to cover it. Much appreciated!
jpikes asked: Could you guys possibly do an east coast tour and stop in Charlottesville VA or Richmond Va?
rathorekishan0 asked: why don'tyou people come to India
barefootsteps asked: What about a show in Mexico City? :D
dustynaugust asked: So what is Open Letter about?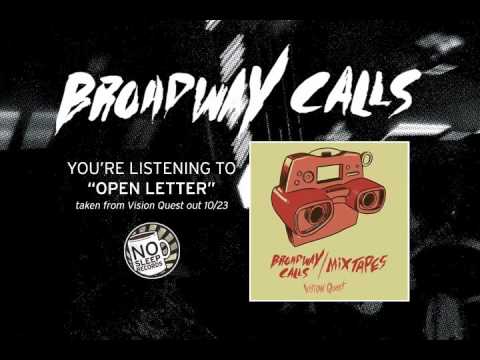 LYRICS to Open Letter
Just thought maybe some folks would be interested… OPEN LETTER We are the quick results of sweet mistakes. We are the ears attached to phone call traces. Studying and taking notes. You steal it back and hope a poet's words will help you understand the way things are. That's life. We live and die. That's right, we live and die. We just try to make it out to the open sea upon the perfect...
Broadway Calls Premiere "Open Letter" + "Vision...
nosleeprecords: Broadway Calls have launched a brand new song titled "Open Letter" over at AltPress.com, check it out here. This track is one of two new songs that are featured on the upcoming split "Vision Quest" with label mates Mixtapes which will be out October 23rd, 2012 just in time for The Fest 11. We invite you to pre-order the new 4 track 7" now via www.nosleepstore.com right...
Hey we're on No Sleep now!!
http://nosleeprecords.tumblr.com/post/30872789606/please-welcome-broadway-calls-to-the-family-split-out Check it out. Spread the word. We're stoked. 
TONIGHT! TOMORROW! THE NEXT DAY!!
Hey this is happening: ALL DATES WITH THE BOUNCING SOULS, THE MENZINGERS, AND LUTHER! 7-11 SAN DIEGO HOUSE OF BLUES 7-12 LOS ANGELES MAYAN THEATER 7-13 LAS VEGAS HOUSE OF BLUES
brilesthebricycle asked: Come back to Chicago :( Please?
sharonchris asked: How can we get a Recording deal in a label?
greensumblinktrio asked: COME TO CLEVELAND, OHIO PLEEEAAAAAASE? <3
greaterthangod asked: Is 'I'm so ready to be done with my twenties' about the book Rant by Chuck P? Also, I'll see you in Santa Rosa
shinytopsandsodapops asked: Are you guys playing the Vancouver date of the Bouncing Souls tour?!
albiongold asked: Hey, do you guys have any plans to tour Australia? Stay rad
Couple little things....
I added a Las Vegas show on the 27th. It will be with the Arteries at some place that's not Punk Rock Bowling, and it totally sucks that we're playing the same night as that, but come see us if you don't have PRB passes.     Also, the San Francisco show is now going to be June 3. It IS happening, and I'll announce the venue and other bands soon. 
DATES! Shows with Dead To Me, The Arteries,...
DEAD TO ME, BROADWAY CALLS, THE ARTERIES 5-17-12 Seattle, WA… Highline.    21+ 5-18-12 Portland, OR… Backspace. 5-19-12 Longview, WA…Minus World. 5-20-12 Redding, CA…MLK Center. 5-21-12 Santa Rosa, CA…The Arlene Francis Center. 5-22-12 Reno, NV…Fort Ryland. 5-23-12 Santa Cruz, CA…The Catalyst. 5-24-12 Fresno, CA…? (no DTM) 5-27-12 Las Vegas, NV (No DTM) 5-28-12 Scottsdale,...
haky asked: Hey guys! I've got a question about Ty's guitar gear: What kind of Marshall heads do you play on stage? Acutally I'm just about to buy a Marshall head myself, it's a JVM 210. This one does have a lot of gain - for Punkrock and Rock even a bit too much maybe (I guess). I think I saw you playing a JVM in one video on Youtube. Please tell me which one that is and what you think...
chelsealeroux asked: when will you be in redding again? it's been too long.
bhouck asked: Hey guys, I am a huge fan. I write for a site called Modern Vinyl and we are a site totally dedicated to vinyl records. Every week we do an article/interview on our favorite musician's vinyl collection. I was wondering if anyone in the band has a vinyl collection and wouldn't mind answering some questions about their collection. It would be really appreciated. Please answer me back...